Global Trade Events Search, Click Here!
DECSC-Sponsored/Organized Events, Click Here!
News

Ratification of the USMCA
Have your voice heard! Contact your local senators and representatives in regards to the ratification of the USMCA. Click here to send your representatives an email in three quick steps.
The US Mexico Canada Trade Agreement (USMCA) was signed November 30, 2018
The USMCA will come into effect following the completion of certain Trade Promotion Act procedures, including a Congressional vote on an implementing bill. In the meantime, NAFTA remains in effect.

If you are operating under NAFTA, or considering cross border trade with the member countries in the future, we encourage you to review the text of the pending agreement for changes and new content which may affect your business going forward.

The full text is available on the website of the Office of the US Trade Representative; or click here.

We strongly recommend that you prepare yourself for the possible changes, so that when the hearings are set for comments with a deadline, you will be prepared to give your Corporate input.
BIS is accepting comments for proposed controls about emerging technologies - These comments are due by January 10, 2019. Here is the link to the relevant Federal Register notice (https://www.govinfo.gov/content/pkg/FR-2018-11-19/pdf/2018-25221.pdf). The definition of emerging technologies is defined within the notice as:

"This advance notice of proposed rulemaking (ANPRM) seeks public comment on criteria for identifying emerging technologies that are essential to U.S. national security, for example because they have potential conventional weapons, intelligence collection, weapons of mass destruction, or terrorist applications or could provide the United States with a qualitative military or intelligence advantage. Comment on this ANPRM will help inform the interagency process to identify and describe such emerging technologies. This interagency process is anticipated to result in proposed rules for new Export Control Classification Numbers (ECCNs) on the CCL."

If anyone wants to file comments, the relevant details are in the Federal Register notice itself.
USTR is requesting comments on negotiating objectives for a possible US-UK Trade Agreement - These comments are due by January 15, 2019. Here is the link to the relevant Federal Register notice (https://www.govinfo.gov/content/pkg/FR-2018-11-16/pdf/2018-24987.pdf).
U.S. Department of Commerce's 2018–2022 Strategic Plan - 2018–2022 Strategic Plan - It sets out the priorities established for the Department by Secretary Ross and informs the public about the department's important work.
Secretary Ross' Op-Ed on China IPR - American genius is under attack from China - Intellectual property theft and expropriation costs US businesses up to $600bn a year.
Trump Administration Releases NAFTA Negotiation Objectives - Link to Summary of Objectives July 17, 2017 - "The America that existed when NAFTA was signed is not the America that we see today. Some Americans have benefited from new market access provided by the Agreement. It contributed to the linking of the continent through trade, while at the same time NAFTA provided much needed market access for American farmers and ranchers. But NAFTA also created new problems for many American workers. Since the deal came into force in 1994, trade deficits have exploded, thousands of factories have closed, and millions of Americans have found themselves stranded, no longer able to utilize the skills for which they had been trained.

For years, politicians promising to renegotiate the deal gave American workers hope that they would stop the bleeding. But none followed up.

In June 2016, then-candidate Donald J. Trump made a promise to the American people: he would renegotiate NAFTA or take us out of the agreement. If we succeed in achieving these objectives — maintaining and improving market access for American agriculture, manufacturing, and services — then we look forward to a seamless transition to the new NAFTA."
NAFTA RENEGOTIATION - Federal Register Notice - Request for Comments on Negotiating Objectives Regarding Modernization of the North American Free Trade Agreement (NAFTA) with Canada and Mexico. DATES: If you want to testify at the hearing, you must provide written notification and a summary of your testimony by Monday, June 12, 2017. Written comments also are due by Monday, June 12, 2017. A hearing will be held at 9 a.m. in the Main Hearing Room of the United States International Trade Commission, 500 E Street SW., Washington, DC 20436, on Tuesday, June 27, 2017.

Trilateral Statement on the 5th Round of NAFTA Negotiations in Mexico City
Link to statement - November 15, 2017

USTR Lighthizer Statement on the Conclusion of the 5th Round of NAFTA Renegotiations
Link to statement - November 2017

Trilateral Statement on the Conclusion of the Fifth Round of NAFTA Negotiations
Link to statement - November 2017

___________________________________________________________

Blog

See our BLOG for the Latest Updates on the North American Free Trade Agreement (NAFTA), United States-Korea Free Trade Agreement (KORUS FTA), Trans-Pacific Partnership (TPP) Agreement, etc..
See Press Release summarizing the Nat'l DEC position on TPP and our readiness to work with the new Administration as it crafts new trade agreements.

See White House Memo (Jan 23, 2017) on Trans-Pacific Partnership (TPP) Agreement.

___________________________________________________________
Op-Ed
Post Truth Politics and Open Global Trade an Op-Ed by Kenneth L. Wengrod, Chair of Legislative Regulatory Committee and TPP Work Group.
___________________________________________________________
DECSC Event Participation
DECSC is very active within the Southern California Export community and welcomes requests to participate in Export-related events. If you wish to be considered in having DECSC participate in your Export-related event please Contact Us and provide as much information as possible about your organization and scheduled event.
_____________________________________________________________
DECSC-Sponsored/Organized Events
DECSC Event Participation Details..
JANUARY 2019
Meet at the LAX Flight Path Museum and Learning Center
Tue, January 22, 2019 8:30 AM – 1:00 PM PST

LAX Flight Path Museum & Learning Center
6661 West Imperial Highway, Los Angeles, CA 90045

EXPORTING MANUFACTURERS - Come join us for this exciting roundtable and tour! (Please Note: This event is designed exclusively for the exporting manufacturers. Kindly do not register if you are not in this category)

- Connect with California Manufacturers who are increasing their sales by Exporting

- Meet with Southern California District Export Council (DEC) members that can answer questions and help you maximize your export efforts

- Learn about current LAX facilities and participate in the LAX Cargo Tour

Roundtable Sessions - please select 3 topics:

- Regulatory Compliance / Licensing
- Finance and Tax
- Freight Logistics and Customs
- IP / Sales and Distribution Agreements
- Market Entry and Export Market Intelligence

This event is for California small and medium-sized manufacturers who are already exporting their products.

For additional information, please contact Elizabeth Glynn at 310.984.0728 or eglynn@cmtc.com
TO REGISTER, Click Here!

_____________________________________________________________
FEBRUARY 2019
LAACC Export Documentation Seminar
Date: February 27, 2019 Registration/Networking: 8:30 a.m. / Program: 9:00 a.m. -11:30 a.m.

L.A. Area Chamber of Commerce – Board Room, 1st Floor
350 S. Bixel Street, Los Angeles, CA 90017

Parking: Complimentary parking available in our parking structure accessible via 4th Street

Event Description

Join the Los Angeles Area Chamber of Commerce and Fast Track Global Services to learn how to get your goods to target countries efficiently and without pitfalls.

Exporting products requires passing through many document processing gateways. Getting that right is the key to successful exports.

Learn from experts about overseas distributors and their challenges:

- Understanding the various levels of Certificates of Free Sales and their differences.
- Learn where to get your documents: Certificate of Free Sale, GMP certificate, Certificate of Origin, and more
- Understand the documents needed to register your products with various Ministries of Health in each country.
- Learn why and which documents are needed for hassle-free exports.

Registration cost: $25.00 - Continental Breakfast and parking included
Contact: Jasmin Sakai-Gonzalez
Tel: 213.580.7569 Email: Jgonzalez@lachamber.com
Cell: 626.274.8275

TO REGISTER, Click Here!

_____________________________________________________________
MARCH 2019
Meet U.S. Bureau of Industry & Security (BIS) Officials from Washington D.C.
Thursday, March 21, 2019 8:30am -10:30am

Location:
Port of Long Beach
4801 Airport Plaza Drive, Long Beach 90815
(near to Long Beach Airport off the 405 Freeway, north on Lakewood Blvd Exit.)

The U.S. Commercial Service is partnering with the Port of Long Beach to host visiting officials from the Bureau of Industry & Security (BIS). Please join for a timely briefing on the latest regulatory and policy developments in the export control field.

Reserve your spot today. Seating is limited. Complimentary coffee and pastries will be provided

Agenda:

8:30am Registration / Coffee & Pastries

9:00-10:00am BIS Export Control Briefing

10:00-10:30m Networking
10:30am Program concludes

Speakers:

Karen Nies-Vogel, Director of the Office of Exporter Services, Bureau of Industry & Security (BIS)
Kimberly Orr, DVM, Ph.D., Senior Biological Licensing Officer, Bureau of Industry & Security (BIS)

Bios:

Karen H. Nies-Vogel:

Karen Nies-Vogel serves as the Director of the Office of Exporter Services (OEXS) within the U.S. Department of Commerce's Bureau of Industry and Security (BIS). Through its offices in Washington, DC, Irvine and San Jose, California, OEXS is responsible for the Bureau of Industry and Security's outreach, education, compliance and regulatory activities. In addition to counseling exporters, organizing and providing seminars, and drafting changes to the Export Administration Regulations (EAR), OEXS also advises exporters on compliance and administers compliance checks on exporters shipping items subject to the EAR. In her twenty year tenure with BIS, Ms. Nies-Vogel has also served as the Chairman of the End-User Review Committee, as the Director of the Strategic Analysis Division in the Office of Strategic Industries and Economic Security, and as an Export Policy Analyst in the Office of Non-proliferation and Treaty Compliance's Foreign Policy Division.

Kimberly Orr:

Dr. Orr's professional background is in veterinary epidemiology. She is a licensed veterinarian with a Ph.D. in pathobiology and is board certified in Veterinary Preventive Medicine and Epidemiology. She is the Designated Federal Official for the Materials Technical Advisory Committee that advises the government on emerging issues and regulatory actions. Dr. Orr is also a technical, regulatory and policy expert in the areas of biological commodities and biological weapons non-proliferation. She processes and countersigns export license applications, commodity classifications, exodus cases, and commodity jurisdiction requests. She identifies and participates in outreach opportunities, drafts and reviews white papers, participates in AG and interagency discussions, and helps draft regulations.
TO REGISTER, Click Here!

_____________________________________________________________
MAY 2019


San Fernando Valley International Trade Conference - Export Potential for Aerospace Companies
Thursday, May 23, 2019 8:30 AM - 12:30 PM (Pacific Time)

Location:
California State Univ. Northridge - Grand Salon
18111 Nordhoff Street
Northridge, California 91330
United States

EVENT DESCRIPTION:
With ​Close ​to ​2 ​Million ​residents, ​the ​San ​Fernando ​Valley ​is ​one ​of ​the ​most ​thriving ​regions ​for ​Los ​Angeles ​area ​businesses. ​While ​known ​for ​its ​concentration ​of ​film ​and ​entertainment ​companies, ​the ​San ​Fernando ​Valley ​employs ​thousands ​of ​engineers ​and ​designers ​in ​the ​Aerospace ​sector. ​Aerospace ​sector ​in ​Los ​Angeles ​is ​the ​2nd ​largest ​export ​sector ​in ​US ​behind ​Washington ​State ​with ​over ​4000 ​firms ​in ​Southern ​California.

The ​conference ​will ​present ​a ​unique ​opportunity ​for ​local ​companies ​to ​learn ​about ​existing ​resources ​available ​to ​help ​them ​expand ​their ​international ​sales ​and ​learn ​from ​area ​Aerospace ​companies ​on ​their ​experience ​selling ​overseas.

Cost:
General ​- ​$35
Student ​with ​ID ​- ​$25
TO REGISTER, Click Here!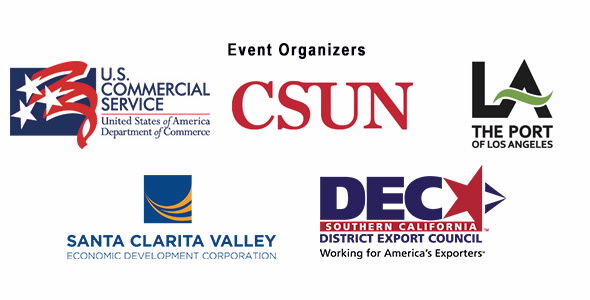 _____________________________________________________________
JUNE 2019
EVENT ORGANIZERS
Complying with U.S. Export Regulations
Thursday, June 20, 2019 9:00 AM - 4:30 PM (Pacific Time)

Location:
Hotel Corque
(805) 688-8000
400 Alisal Road
Solvang, California 93463
United States
Fee: $50.00

EVENT DESCRIPTION:
A must attend event to hear speakers from the District Export Council of Southern California (DECSC) provide an in-depth examination of the Export Administration Regulations (EAR) and the U.S. Commercial Service discuss the many resources available to assist with your company's export objectives.

This ​is ​a ​"must ​attend" ​event ​providing:
• ​An ​overview ​of ​Export ​Regulations ​you ​can ​understand
• ​Integrating ​export ​rules ​and ​controls ​into ​your ​daily ​business ​processes
• ​Understanding ​what ​the ​regulations ​cover ​and ​don't ​cover
• ​Understanding ​your ​responsibilities ​as ​an ​Exporter, ​and ​what ​they ​are
• ​Appreciation ​for ​the ​importance ​of ​accurate ​documentation ​and ​understanding ​why ​accurate ​recordkeeping ​is ​essential ​to ​keep ​things ​running ​smoothly
• ​Quick ​Tips ​& ​what ​to ​do ​if ​you ​run ​into ​trouble!

Speakers will discuss in detail Export Licensing, Export Sanctions, and what resources are available to you for assistance. There will be an extended Q & A Session for attendees at the end of the session.
TO REGISTER, Click Here!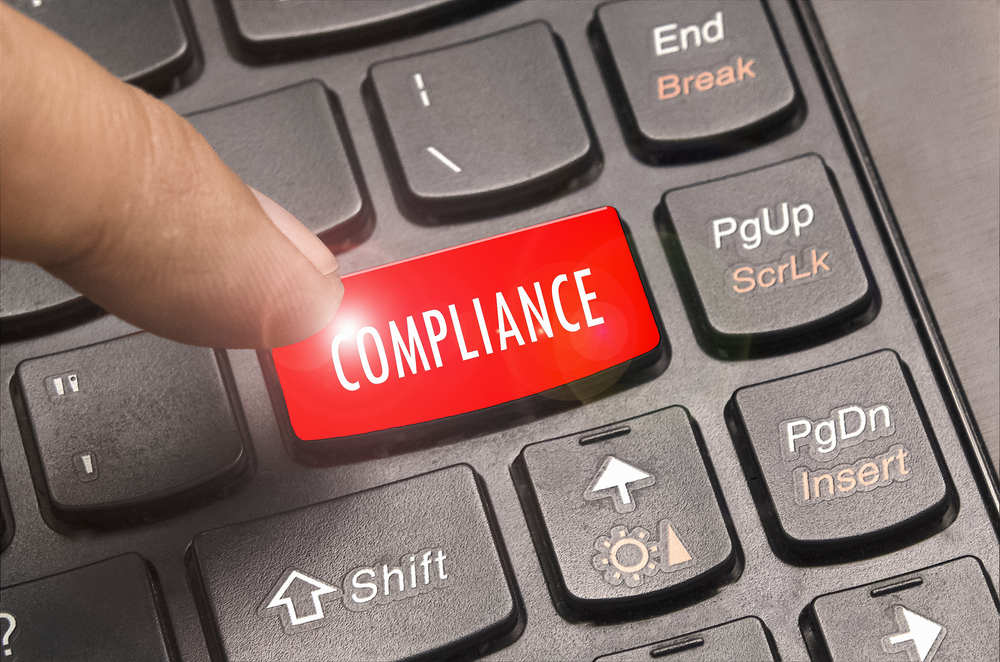 _____________________________________________________________
JULY 2019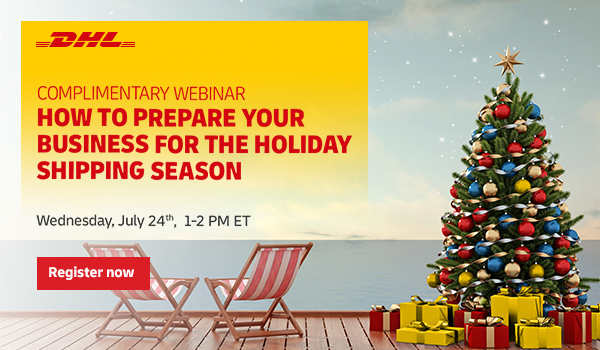 How to Prepare Your Business for the Holiday Shipping Season
Wednesday, July 24, 2019 10:00 AM - 11:00 AM (Pacific Time)

EVENT DESCRIPTION:
The holiday season is fast approaching for your e-commerce business, and it's never too early to prepare. Is your website ready to handle a heavy volume of international orders? At our upcoming Holidays in July webinar on Wednesday, July 24th, you'll learn how to find out. Plus, Alan Majchrzak, Director of Customs Brokerage Services for DHL Express U.S., will deliver his top tips for importing and exporting goods to customers during the holidays. Department of Commerce, International Trade Administration (ITA) Mindi Hertzog from Commercial Service Orlando, Florida will also discuss how ITA services can help your business sell internationally.

During this webinar, you will learn about:
- Your website's ability to attract customers and accept international orders
- How to avoid delays when exporting items to customers
- Best practices for importing goods
- How to identify a shipment as a gift
- Common restrictions on importing gifts into the U.S.
TO REGISTER, Click Here!
_____________________________________________________________
SEPTEMBER 2019


Complying with U.S. Export Controls
September 18 -19, 2019 7:30 AM - 4:30 PM (Pacific Time) both days

Location: Sheraton Gateway Los Angeles Hotel, 6101 West Century Boulevard, Los Angeles, CA 90045

AGENDA

This two-day program is led by BIS's professional counseling staff and provides an in-depth examination of the Export Administration Regulations (EAR). The program will cover the information exporters need to know to comply with U.S. export control requirements under these regulations. We will focus on what items and activities are subject to the EAR; steps to take to determine the export licensing requirements for your item; how to determine your export control classification number (ECCN); when you can export or reexport without applying for a license; export clearance procedures and record keeping requirements; Export Compliance Program (ECP) concepts; and real life examples in applying this information. Presenters will conduct a number of "hands-on" exercises that will prepare you to apply the regulations to your own company's export activities. This one-of-a-kind program is well suited for those who need a comprehensive understanding of their obligations under the EAR.

Continuing legal education credit (MCLE) is available, and varies with the length of each seminar, for California State Bar members.

About the Instructors

The instructors are experienced export policy specialists, and enforcement personnel from BIS's field offices. The instructors will be available throughout the seminar to answer your questions.
Location/time

The program will be held at the Sheraton Gateway Los Angeles Hotel, 6101 West Century Boulevard, Los Angeles, CA 90045. Registration will begin at 7:30am on September 18, 2019. The program will begin at 8:30am and end at 4:30pm on both days.

Accommodations

Group rate of $180 per night is available until September 11, 2019. Subject to Availability. Reservation link will be sent upon successful completion of event registration.
Registration

The seminar registration fee is $500 per person. Click here to register online. The fee includes continental breakfast, coffee breaks, lunch on both full days, and conference materials. The registration fee is non-refundable after September 4, 2019.

For questions or information regarding registration and payments, please contact contact Guy Fox at: (310) 413-8884, or email.

Other Questions?

For more information or questions on the topics to be covered, please call the BIS Western Regional Office at (949) 660-0144, (408) 998-8806, or by email.
NOTE:
The Western Regional Office of the Department of Commerce, Bureau of Industry and Security is a State Bar of California approved MCLE provider. This course is worth 12 hours of MCLE credit. However 0 hours will apply to legal ethics/law practice management; prevention, detection and treatment of substance abuse and emotional distress; and elimination of bias.

Americans with Disabilities Act: If special arrangements are required for a disabled individual to attend any of these programs, please notify the contact person at least one week prior to the program.

TO REGISTER, Click Here!



Sponsorship Opportunities
For information on Sponsorship Table Top Display opportunities and other benefits, Click here!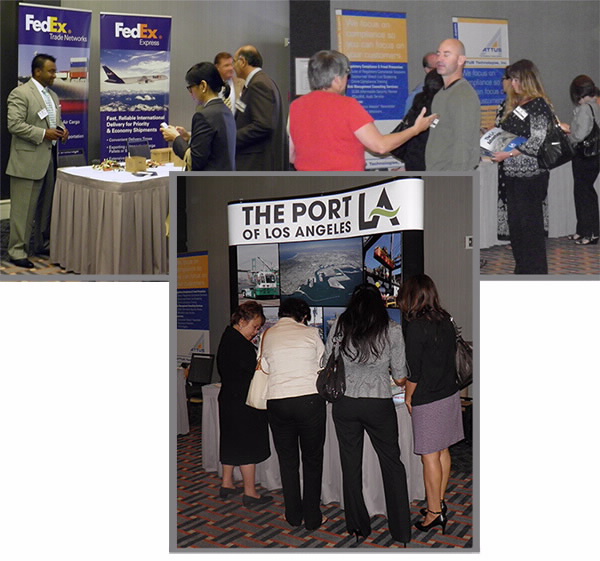 _____________________________________________________________
OCTOBER 2019

International Banking & Finance Seminar
Wednesday, October 23, 2019 8:00 AM - 12:15 PM PST

Location:
Small Business Development Center
1 Banting
Irvine, California 92618

This seminar is designed for experienced small business owners (3+ years) who are ready to export or want to grow their export business. And, to be successful our experts in international banking and finance will be here to:

- Explain the financial tools available and key resources to assist
- Address your company's needs in on-site consulting sessions!
- Workshops on loan application process and CA SBA-funded STEP* program
*California State Trade Expansion Program (STEP)

Availability is Limited

Price: $40 Includes parking, continental breakfast, and a boxed lunch.

This event is cosponsored by the US Small Business Administration and the District Export Council of Southern California.

Agenda

Bios
TO REGISTER, Click Here!
_____________________________________________________________