Trade Events Search, Click Here!

News

Secretary Ross' Op-Ed on China IPR - American genius is under attack from China - Intellectual property theft and expropriation costs US businesses up to $600bn a year.
Trump Administration Releases NAFTA Negotiation Objectives - Link to Summary of Objectives July 17, 2017 - "The America that existed when NAFTA was signed is not the America that we see today. Some Americans have benefited from new market access provided by the Agreement. It contributed to the linking of the continent through trade, while at the same time NAFTA provided much needed market access for American farmers and ranchers. But NAFTA also created new problems for many American workers. Since the deal came into force in 1994, trade deficits have exploded, thousands of factories have closed, and millions of Americans have found themselves stranded, no longer able to utilize the skills for which they had been trained.

For years, politicians promising to renegotiate the deal gave American workers hope that they would stop the bleeding. But none followed up.

In June 2016, then-candidate Donald J. Trump made a promise to the American people: he would renegotiate NAFTA or take us out of the agreement. If we succeed in achieving these objectives — maintaining and improving market access for American agriculture, manufacturing, and services — then we look forward to a seamless transition to the new NAFTA."
NAFTA RENEGOTIATION - Federal Register Notice - Request for Comments on Negotiating Objectives Regarding Modernization of the North American Free Trade Agreement (NAFTA) with Canada and Mexico. DATES: If you want to testify at the hearing, you must provide written notification and a summary of your testimony by Monday, June 12, 2017. Written comments also are due by Monday, June 12, 2017. A hearing will be held at 9 a.m. in the Main Hearing Room of the United States International Trade Commission, 500 E Street SW., Washington, DC 20436, on Tuesday, June 27, 2017.

Trilateral Statement on the 5th Round of NAFTA Negotiations in Mexico City
Link to statement - November 15, 2017

USTR Lighthizer Statement on the Conclusion of the 5th Round of NAFTA Renegotiations
Link to statement - November 2017

Trilateral Statement on the Conclusion of the Fifth Round of NAFTA Negotiations
Link to statement - November 2017

___________________________________________________________

Blog

See our BLOG for the Latest Updates on the North American Free Trade Agreement (NAFTA), United States-Korea Free Trade Agreement (KORUS FTA), Trans-Pacific Partnership (TPP) Agreement, etc..
See Press Release summarizing the Nat'l DEC position on TPP and our readiness to work with the new Administration as it crafts new trade agreements.

See White House Memo (Jan 23, 2017) on Trans-Pacific Partnership (TPP) Agreement.

___________________________________________________________
Op-Ed
Post Truth Politics and Open Global Trade an Op-Ed by Kenneth L. Wengrod, Chair of Legislative Regulatory Committee and TPP Work Group.
___________________________________________________________
DECSC Event Participation
DECSC is very active within the Southern California Export community and welcomes requests to participate in Export-related events. If you wish to be considered in having DECSC participate in your Export-related event please Contact Us and provide as much information as possible about your organization and scheduled event.
_____________________________________________________________
DECSC-Sponsored Events
DECSC Event Participation Details..
FEBRUARY 2017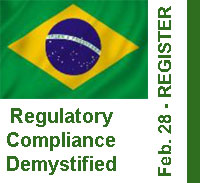 BRAZIL REGULATORY COMPLIANCE DEMYSTIFIED

February 28, 2017 | 9:00am – 11:00am | LA Area Chamber of Commerce

- Interested in selling your product to 200 million new potential customers?

- Concerned the complexities of Brazil's regulatory environment will hinder your product or technology from entering the world's 9th-largest economy?

Invitation: Join the U.S. Commercial Service for an event featuring Brazilian accredited certification body Master Compliance (MC) as they demystify the intricacies of regulatory compliance in Brazil. We invite regulatory compliance managers, product development engineers, marketing and sales executives, and others interested.

Industries: Telecommunication, LED lamps, household appliances, IoT devices, UAVs/drones and HVAC. Any company with a product utilizing RFID technology, remote controls, and Bluetooth cannot miss this session.

One-on-One: Please indicate an interest and we will schedule an individualized consultation with MC's experts from Feb 28 to Mar 3.

About Company: MC is a Brazilian accredited certification body with over ten years' experience working with international companies to achieve compliance with the regulatory requirements of Brazil's Anatel and Inmetro.

Cost per person: $40

For questions, contact any of the following individuals:

Eric Olson
U.S. Commercial Service
West LA, CA
Tel: 213.200.7172
Eric.Olson@trade.gov

TO REGISTER, Click Here!

_____________________________________________________________
MARCH 2017

ASIA PACIFIC BUSINESS OUTLOOK (APBO) CONFERENCE
THE LA HOTEL Downtown, March 27 & 28, 2017, Los Angeles

Taking L.A. to the World: Growing Your Business Through Exports

The U.S. Commercial Service and the USC Marshall School of Business have been working together on the Asia Pacific Business Outlook (APBO) since 1988 to help exporters and investors expand their trade and investment in the Asia/Pacific region.

In the aftermath of the U.S. elections, new uncertainties in trade and foreign policies will have an impact on Asia/Pacific business environments. In the upcoming months, as the administration defines its policies, businesses will be able to learn first-hand from the 50 business experts at APBO so they can strategically maneuver their organizations to meet the new challenges and opportunities in the constantly changing economies of Asia.

APBO is a comprehensive networking and learning experience designed to provide business leaders with:

- Industry and government contacts
- Up-to-date information about business environments in 17 economie
- Conference attracts over 300 American business executives
- Private one-on-one appointments with Senior Commercial Officers from American Embassies and Consulates in 17 economies.

Countries Available for One-on-Ones Appointments

Australia | Cambodia | China | Hong Kong | India | Indonesia | Japan

Korea | Malaysia | Mexico | Myanmar (Burma) | New Zealand

Philippines | Singapore | Taiwan | Thailand | Vietnam

*US Commercial Service Referral Code: USCS2017
(Please be sure to submit this code when registering.)

APBO has sold out in recent years. Space is limited, so sign up today!

Comments from previous participants:

"APBO far exceeded my expectations. The value of the conference is unsurpassed. I secured more valuable contacts in two days at APBO than I could have in years any other way."

"This event is the most educational and well organized event I have attended. As a small business it is nice to know that there is help dealing with such a big world."

"I can't imagine a better collective of international business experts available in a concise yet thorough conference. A definite 'must' for companies seeking to do business abroad."

For questions, contact any of the following individuals:

Eric Olson
U.S. Commercial Service
West LA, CA
Tel: 213.200.7172
Eric.Olson@trade.gov

Erica Ramirez 
U.S. Commercial Service
Irvine, CA
Tel: 909-208-4613
Erica.Ramirez@trade.gov

TO REGISTER, Click Here!

_____________________________________________________________
APRIL 2017

PORT OF LOS ANGELES TRADE CONNECT INTRODUCTORY WORKSHOP
City of Garden Grove Community Center, April 5, 2017, Garden Grove, CA 92840

What is Trade Connect Introductory Workshop?

Trade Connect Export Workshops cover the fundamentals of exporting, including costs, risks and steps. In cooperation with other agencies and professional associations, this introductory program presents a summary of services which also includes the basics of the commercial transaction, finding overseas markets, trade financing, documentation and logistics.

Who should attend?

- All those interested in learning about the export process, including Manufacturers, Suppliers, Intermediaries, Service Providers

- Prospective new exporters and entrepreneurs

- Export ready companies looking to expand their international business operations

AGENDA TOPICS

- How to Export
- Identify Markets
- Financing & Insuring Overseas Sales
- Documentation & Logistics
- Sea & Air Cargo Services
- Services of CITD
- Services of SBDC

CONTACT: Jean Coronel at jcoronel@portla.org

TO REGISTER, Click Here!

_____________________________________________________________
MAY 2017


BUREAU OF INDUSTRY AND SECURITY BIS EXPORT REGULATION COURSE
May 3-4, 2017 - Hilton Orange County/Costa Mesa, 3050 Bristol St., Costa Mesa, CA 92626


This two-day program is led by BIS's professional counseling staff and provides an in-depth examination of the Export Administration Regulations (EAR). The program will cover the information exporters need to know to comply with U.S. export control requirements. We will focus on what items and activities are subject to the EAR; steps to take to determine the export licensing requirements for your item; how to determine your export control classification number (ECCN); when you can export or reexport without applying for a license; export clearance procedures and record keeping requirements; Export Management Compliance Program (EMCP) concepts; and real life examples in applying this information. Presenters will conduct a number of "hands-on" exercises that will prepare you to apply the regulations to your own company's export activities. This program is well suited for those who need a comprehensive understanding of their obligations under the EAR.

The workshop will explain:

- The scope of the Export Administration Regulations.
- How to determine the export licensing requirements for your product.
- When you may export without applying for a license.
- What an Export Management Compliance Program ("EMCP") is, and how it can help meet your regulatory responsibilities.

Agenda

About the Instructors
The instructors are experienced export policy specialists, and enforcement personnel from BIS's field offices. The instructors will be available throughout the seminar to answer your questions.

Location/time
Hilton Orange County/Costa Mesa
3050 Bristol St.
Costa Mesa, CA 92626
Tel:(714) 540-7000

Lodging
The Hilton is offering a special rate of $169 per night until April 17, 2017 to seminar attendees. Booking details will be provided once registration is complete.

Registration
The registration fee is $450 per person. The fee includes continental breakfasts, coffee breaks, a luncheon both full days and conference materials. The registration fee is not refundable after April 17, 2017. REGISTER NOW

Questions?
For registration information, please contact the U.S. Commercial Service's Export Assistance Center at: (949) 660-1688, or email.

PROGRAM CONTENT Questions?
For more information or questions on the topics to be covered, please call BIS's Western Regional Office at (408) 998-8806 or email.

NOTE:
The BIS Western Regional Office is a State Bar of California approved MCLE provider. This course is worth 12 hours of MCLE credit. However 0 hours will apply to legal ethics/law practice management; prevention, detection and treatment of substance abuse and emotional distress; and elimination of bias.

Americans with Disabilities Act: If special arrangements are required for a disabled individual to attend any of these programs, please notify the contact person at least one week prior to the program.

Information on sponsorship opportunities? Click here...
TO REGISTER, Click Here!
In Cooperation with the
U.S. Commercial Service & Women in International Trade - OC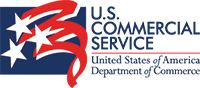 _____________________________________________________________
JUNE 2017
Web Conference: Building an Infrastructure for Credit Decisions in a Global Market Place
Tuesday, June 27, 2017 10:00 AM - 11:30 AM (Pacific Time)

Credit decisions in a global environment are more complex than making a go-no go decision on credit in a strictly domestic environment. There are more options for structure, and there are more risks present in the global marketplace. There are factors to consider that don't exist inside the boundaries of a single country.

We'll inventory the kinds of risks that a credit decision maker must be aware of in international credit decisions. Beyond the obvious buyer risk are the political and economic risks, as well as legal environment variables that need to be considered.

We will offer a structured approach to determining a company's appetite for risk, based on drivers like growth, opportunity, financial strength and availability of risk mitigation. Hopefully this process will involve top management, so that a framework is approved for credit decisions.

Tactics for understanding risks, including political risk, commercial and collection risk will be offered, including an enumeration of some resources for information gathering.

Risk mitigation techniques, including mechanisms for understanding the credit worthiness of a customer, transactional structure like documentary collections, and credit and political risk insurance as ways to limit risk will also be covered.

Bio for Brett Tarnet

TO REGISTER, Click Here!

_____________________________________________________________
JULY 2017
VITA Global Networking Breakfast – Growing Your Business Through Exporting
Wednesday, July 26, 2017 @ 8:00 am - 10:00 am

Program Topics:

Why Export?

Factors to Consider – Pricing Logistics, IPR, Financing, etc.

You're Not Alone – Resources to Assist You

Presented By: Eric Olson, Commercial Officer & Senior International Trade Specialist, U.S. Commercial Service

Case Study By: Andrew Sweibel, Vice President, International, Bobrick Washroom Equipment, Inc.

Brochure
TO REGISTER, Click Here!

_____________________________________________________________
AUGUST 2017
Third Annual Global Trade Educational Conference (G·TEC)
August 7-8, 2017, Westin Long Beach, Long Beach, CA (Reservations)

Registration for the NCBFAA Educational Institute's 2017 Global Trade Educational Conference (G.TEC) is now open! This year's event will be held August 7-8 in beautiful Long Beach, CA. G.TEC gathers professionals from all facets of the industry—regardless of membership or affiliation—for two days of educational sessions and networking. Don't wait--register by June 30th to attend for the lowest possible price!

Earlybird Registration Deadline: May 13, 2017
Advance Registration Deadline: June 30, 2017

About the Conference

The NCBFAA Educational Institute invites all global logistics professionals to its Third Annual Global Trade Educational Conference (G·TEC). This two-day event in beautiful Long Beach, CA will give customs brokers, freight forwarders, NVOCCs, OTI, service providers, importers, exporters and all global logistics professionals an opportunity to update themselves on industry developments and connect with colleagues new and old.

GENERAL INFORMATION

What is the Global Trade Educational Conference?

The Global Trade Education Conference (G·TEC) is an annual event put on by the NCBFAA Educational Institute (NEI). It offers attendees the opportunity to have in-person training with the leading subject matter experts in the industry, as well as meet and network with colleagues. It is an educational opportunity open to all members of the international trade and logistics community.

Who should attend?

International Trade Service Providers such as U.S. Customs Brokers and Freight Forwarders, their employees who handle the daily transactions, as well as anyone who works in the global logistics industry, including import and export compliance department staff.?

CONFERENCE INFORMATION
What are the hours of the G·TEC Registration/Information Desk?

Monday, August 7, 2017: 7:00 a.m. to 5 p.m.

Tuesday, August 8, 2017: 7:00 a.m. to 12 p.m.

How can I earn Continuing Education Credits for attending the conference?
10 CCS/CES credits will be earned for attending the conference. Please sign in for your credits at the registration desk at any time during the conference.

CONTACT

Who can I contact if I have additional inquiries?

For all inquiries relating to the conference, please contact the NEI Staff at nei@ncbfaa.org or at 202-466-0222.

TO REGISTER, Click Here!

_____________________________________________________________
SEPTEMBER 2017
Europe's General Data Protection Regulation (GDPR) and EU - U.S.
September 27, 2017 8:30am-1:00pm

What You Need to Know to be in Compliance

Women in International Trade - Los Angeles, will offer a half-day program in conjunction with The U.S. Commercial Service, a Privacy Shield expert, & Foreign Commercial Service EU, to inform and help U.S. companies prepare.

What you need to know:

Do you have customers, clients or employees in Europe? Are you interested in selling to customers in Europe in the future? If the answer to either of these questions is yes, join us and learn about how the General Data Protection Regulation (GDPR) may impact your business when it comes into force in May 2018. Failure to comply with the GDPR could result in stiff fines as high as 4 percent of your company's overall revenue.

In 2016, the International Trade Administration of the U.S. Department of Commerce launched the EU- U.S. Privacy Shield Framework to provide U.S. companies with a mechanism to comply with EU data protection requirements when transferring personal data from the EU to the United States. Over 2,300 companies use this program to transfer data. Privacy Shield can play an integral role in many companies' overall GDPR compliance strategy.

Objective:

Find out why Europe is a key market for U.S. Businesses
Gain in-depth knowledge about GDPR requirements including:
Accountability & transparency
Security and privacy by default
Communication with your customers and business partners
Discover how GDPR can impact your business including:
What processes and tools should be put in place
How to start the compliance process
How to turn GDPR into a business advantage
Learn about the Privacy Shield Program and how to apply:
New Requirements under Privacy Shield
Application and Review Process
Know what to keep an eye on in the future

Engage with:

CSEU senior advisor for digital policy
Privacy Shield expert
Private sector representative(s)

Location
Conference Center, Holiday Inn Long Beach Airport
Hotel 2640 N Lakewood Blvd, Long Beach, CA 90815

TO REGISTER, Click Here!

_____________________________________________________________
OCTOBER 2017

EXPORT DOCUMENTATION BRIEFING
Tuesday, October 3, 2017 8:30 AM to 11:30 AM

Getting it Right the First Time - Learn what documents you need and where to get them

Not Getting Paid? Goods Held in Customs?

Errors in documents submitted under Letters of Credit = no payment.

Incomplete/inaccurate documents accompanying shipments = no loading or goods seized at entry.

Documents not authenticated = not legally accepted.

Get solutions from expert speakers to learn about the following:

• Most effective way to submit your entry documents

• Security and customs requirements, including documents needed for restricted articles, cosmetics, nutraceuticals, medical devices and pharma

• Certificates of Origin, Certificates of Free Sale and other certificates

• Import licenses, notarization, authentication and apostilles

• Navigating product registration issues

• Using Incoterms® and distributor agreements to shift risks and facilitate payment

• Implications of current NAFTA renegotiation

Price: Member $35.00 / Non-Member $35.00
Agenda

8:30 a.m. Registration + Breakfast

9 - 11:30 a.m. Program

Location
L.A. Area Chamber
350 S. Bixel Street
Los Angeles CA 90017

TO REGISTER, Click Here!

_____________________________________________________________
NOVEMBER 2017

Agriculture Export Financing Seminars - Fresno & Bakersfield
NOTE: EVENTS POSTPONED!

Description

Attend these free events, sponsored by RaboBank on Ag Export Financing!

Exports play an important role in California's economy and they could play an important role in the future of your company. Find out how to use these tools to improve your global competitiveness and protect your foreign receivables.

Come learn about:

- Loans to Exporters: Sources of Funding and How-To's on qualification

- Buyer Financing Options

- Contract / Payment Structures in Export Transactions

- Payment Risk Mitigation Techniques

- U.S. Government Assistance Available

- How I Obtained the Export Financing Needed to Become Successful

- Special Bonus: Ask the Experts in One-On-One counseling!

Date and Time
Mon, November 6, 2017 8:30 AM – 12:30 PM PST

Location
Fresno
U.S. Export Assistance Center
801 R Street, Suite #201
Fresno, CA 93721

TO REGISTER, Click Here!
AND

Date and Time
Tue, November 7, 2017 8:30 AM – 12:30 PM PST

Location
Bakersfield
California State University Bakersfield
9001 Stockdale Hwy
Bakersfield, CA 93311
TO REGISTER, Click Here!
_____________________________________________________________